If you happen to have an older smartphone, Android or iPhone, there is a good chance that its just collecting dust somewhere! Instead of that, why not actually use it as a music player! Here is how:
Make sure the software on your phone is up to date with the latest compatible software available for that device: This step is important if you want to use a certain music app to play music, such as Apple Music, Google Play Music, Spotify, or Pandora. If you're not sure how to check for software update, click here to iOS Software update guide, or here for Android software update guide.
With older devices, there is a good chance that the device's battery won't last long, therefore you need a power source to keep the device running while you're playing your favorite jam! You can solve this problem in two ways: A Bluetooth speaker + a power source (portable or not); which is a good solution but then you have to remember to connect charge your power bank, or keep plugging your device to the wall. Therefore, I prefer to use a speaker docking station. The great advantage of a docking station is that it will always provide power to your phone, and there is no need to worry about connecting your device via bluetooth.
Speaker docks, especially for older phones, are cheap. You can find ones online on Amazon for example (click here: Speaker Docks
*) for less than $50. Or if you're lucky enough, you can find ones at your local thrift shop for less than $10!.
Here is a picture of my old iPhone 4 with a cracked screen, and the dock I found at a local thrift store: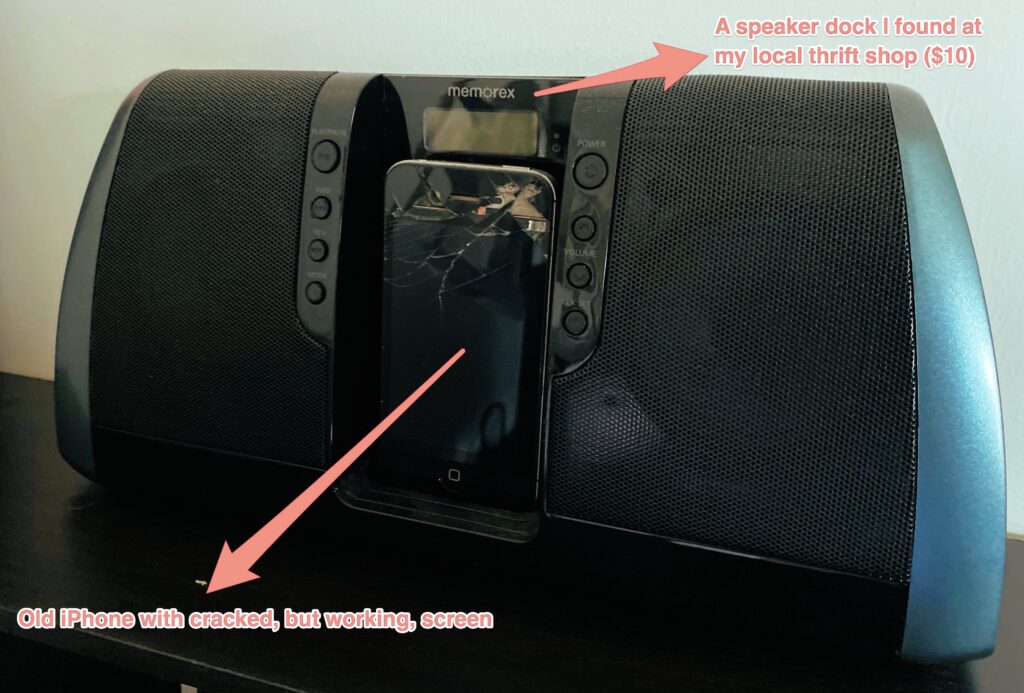 Now when it comes to listening to music, you have few options, and that depends on how old your device is and what apps you can install and run on it without any interruptions. Some apps, like Spotify, might require a certain OS version to run, and others might work but they won't run smoothly. Therefore, you can either download music directly to your device, via iTunes for iPhone, or simply by putting some on a memory card for Android and play them on the device, and with that you don't even need an internet connection. Or, you can find a streaming website and launch that directly from your phone's internet browser. There are many of such websites, including possibly your favorite local FM channel, but the two I use the most are: TuneIn and Radio Garden.
I hope you found this article useful, and if you have other ideas or links that your like to use for streaming please make sure to let them in the comment section below!
Thanks! -Kais
* paid links; As an Amazon Associate I earn from qualifying purchases
---